Your Step-by-Step Mortgage Buyers Guide
One of the first steps in buying a new home is to take a realistic look at what you can afford and how you are going to pay for it. If you are like most people, you will probably have to finance your home purchase with a mortgage loan. What follows is an explanation of terms and options to understand when considering what mortgage is right for you.
What is a mortgage?
A mortgage is a loan that uses the home you buy as security. This loan is registered as a legal document against the title of your property. Here's a quick overview of some of the most common aspects of a mortgage that you need to understand.
The principal is the amount of the loan, or the cash actually borrowed.
The interest is the amount the lender charges for the use of funds, or principal. Interest rates vary according to many factors, including terms and conditions of the mortgage as well as a borrower's credit history. Mortgage payments are usually applied toward both principal and interest.
The amortization period is the actual number of years that it will take to repay the entire mortgage loan in full. This normally ranges from 15 to 25 years but can be extended in certain circumstances. A longer amortization period will result in lower payments but it will take that much longer to pay off your mortgage which in turn means you will pay more interest. You should select the shortest period you can afford.
The term is the length of time for which a mortgage agreement exists between you and your lender. Typically, terms range between six months and ten years. A longer term means you will keep the interest rate agreed upon for that longer length of time. Rates vary with the term and the difference in payments and interest costs can be calculated by your mortgage professional. Once your term is up you are able to reevaluate your financial situation and consider new term and amortization periods.
The maturity date marks the end of the term, when you can either repay the balance of the principal or renegotiate the mortgage at interest rates in effect at that time. If you should choose to repay the balance or renegotiate the mortgage before this date, penalties may be charged.
Payment schedule is the frequency at which you will make your mortgage payments. These can occur monthly, semi-monthly (twice a month), biweekly (every other week), or weekly. Generally, more frequent payments can result in lower interest costs over the life of your mortgage.

Some Mortgage Options:
Mortgage Options let you tailor the mortgage to fit your personal needs and circumstances. Open or closed mortgages, pre-payment options, fixed or variable rates or portable mortgages are just a few of the most commonly available options.
Open vs. Closed:
Open, describes the option to prepay without penalty allowing a borrower to make large lump sum payments or pay off the entire mortgage without incurring extra fees. This option generally comes with higher interest rates and shorter terms. This is a good option if you plan on selling your home soon, or need a short period of time to weigh your options before locking into a closed mortgage.
Closed, may set a limit on the amount or frequency at which lump sum payments are allowed. Should you choose to pay off your mortgage before the end of term you will most likely be charged a penalty. As such they are not a good option if you plan on moving in the near future. They do however involve fixed payments allowing a homeowner to adjust to a new budget that now includes regular mortgage payments. Also, terms are normally set for longer periods allowing for greater certainty when planning for the future.
Fixed vs. Variable vs. Adjustable:
Fixed, describes an interest rate which will not change over the term of the mortgage. This is a good option when interest rates are low and are expected to rise in the near future. It also gives a first time homeowner time to adjust to any change in budget that making mortgage payments may have caused.
Variable, means that the interest rate being charged is changing based on the interest rate set by the Bank of Canada. This rate fluctuates based on market conditions. Your payments will, with few exceptions, continue to stay the same however the amount you are paying will be distributed to the interest and principal in different amounts. If interest rates rise you will be paying off less of the original borrowed sum as more of your payment goes to interest. The opposite being true should interest rates drop. If you have a fair bit of flexibility in your budget this may be a good option as variable rates over the life of your mortgage often result in lower interest charged.
Adjustable, as with the variable option above, interest rates will change with market conditions however any change in interest rate will result in an increase or decrease in payment. This option should be considered with great care as an increase in rates could results in payments outside you budgetary limits.
Your mortgage professional can help you decide which option is best for you by talking to you about current market conditions and expectations on future rate changes, as well as the risk you are willing to assume within your personal budget.
Portability:
Many lenders offer products which will allow you to carry your current mortgage to a new home should you decide to move. The options vary by lender so please consult your mortgage broker if this is something you may be planning in the near future.
Pre-payment:
Regardless of the type of loan (fixed/variable, term, amortization) most lenders will have guidelines that will allow you to pre-pay a portion or percentage of your mortgage in advance of the end of the term. Such conditions often include an option to double up a payment or pay an extra 10-20% each year on the amount of principle borrowed. These conditions should be considered with care should you anticipate any ability to make larger mortgage payments in the future. Pre-payments can make a drastic difference to the interest incurred over the life of the mortgage as they are applied only to the principle amount and not divided between principle and interest as your regular monthly payments will be.
Quick Close Mortgage: (This does applies to non-private mortgages aka C lenders)
A quick close special is a discounted rate that applies if your mortgage is closing in the next 30-45 days.
By way of example, a lender's best 5-year fixed rates might be as follows:
2.99 % with a 120-day rate hold (common pre-approval rates)

2.69 % with a 60-day rate hold (closing on the mortgage within 60 days)

2.49 % with a 30-day rate hold (closing on the mortgage within 30 days)
Lenders do this because it costs less to hold a rate for shorter period of time. Plus, there is a higher likelihood of a mortgage closing if the client applies within 30-days of funding. Lenders are therefore actively pursuing quick-close borrowers with their very best rates. Generally, anyone that has committed to a lender 3-4 months in advance will not benefit from the lender's lowest rates.
Mortgage Definitions:
Types of Traditional Mortgages
There are two basic types of mortgages:
Conventional Mortgage: The loan amount does not exceed 80% of the property value, defined as the lesser of the purchase price or the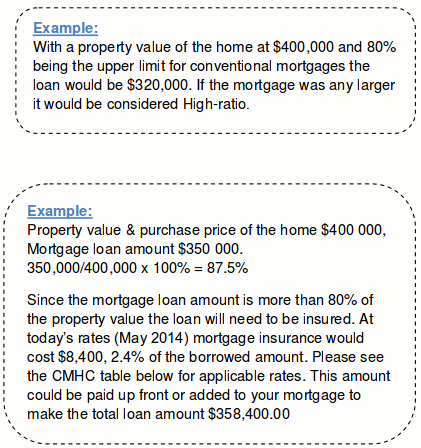 appraised value. If you are buying a home as a rental property you will be required to have a minimum down payment of 20%, resulting in a conventional mortgage.
High-ratio Mortgage or National Housing Act mortgage: The principal amount is more than 80% of the property value up to 95%. By law, a high-ratio mortgage must be insured against borrower default (the borrower not being able to make mortgage payments). The borrower pays a mortgage insurance premium (a percentage of the total loan amount) which can be added to the mortgage loan or paid in a lump sum in advance.
Mortgage Insurance
There are various organizations that offer mortgage insurance. Certain lenders will have a preferred organization that they may use exclusively. There are also programs offered by mortgage insurance companies that include vacation properties, new to Canada buyers, energy efficiency rebates, and more. Your mortgage professional can help ensure you are insured under the right company with the right product.

Sources of Down Payment:
There are various sources available for your down payment. Below is a list of traditional sources and non-traditional sources. Non-traditional sources, although available, may come with higher interest rates or require higher insurance premium as noted in the table above. Make sure to talk to your mortgage professional about the implications of these sources.

STEPS TO A SPEEDY APPROVAL
The more information and supporting documentation you can provide your mortgage professional up front, the more likely your approval process will be completed quickly. Once you have returned the application package, you will be provided a document checklist detailing the items that will be required to formally submit for lender review and final approval.
Ways to Speed up Your Approval Supporting documentation your mortgage professional may require:
Identification
Proof of Employment
Down Payment
Housing History
Credit Scores
Assets and Liabilities
Identification (2 forms of ID form provided Acceptable Forms of ID Document)
Assets & Liabilities
Approval will depend on your ability to afford your monthly payments. Assets such as; balances in saving and checking accounts, RRSP and investments balances, vehicles you own as well as other properties combined with liabilities including; other mortgages, credit cards and loans will decide your ability to make these payments.
Housing history
3 years history of rent paid and corresponding addresses
Information on any other properties you own
Information regarding the property you plan on purchasing including any monthly strata fees, property taxes, heating source, MLS listing and address (civic and legal), closing costs (usually around an additional 1.5%), Land Transfer Taxes.
(Most of this information can be forwarded by your realtor.)
Employment and Income Proof (examples)
Income Tax documents: T4, T1 general/ Notice of Assessment
Pay Stub
Letter of employment stating employment conditions: hours, salary, any probation conditions.
Self Employed? – 2 years NOA and proof of 2 years business for self, Incorporations documents or GST number.
Any other information regarding other sources of income. These can include but are not limited to: settlement payments, disability payments, alimony, government grants including child tax benefits and bonuses paid by employer or recent changes in such arrangements that could increase your income.
Down payment (examples)
3 months of bank statements, savings and/or checking account
Most recent RRSP & investment statements, Verification of transfer
Gift letter for gifted down payment from a immediate family member & confirmation of deposit
Source of borrowed funds, ex. Line of Credit/VISA, if qualified.
The General Differences between A, B, & C Residential Mortgages
"A" Mortgage (AKA Traditional Mortgage Non-Private Mortgage)
✔ Most Common mortgages offered by Regular Lending Institutions & thru Mortgage Broker Lenders.
✔ If a borrower is purchasing, the minimum down payment is 5%, however $0 down (flex down) mortgages is available with select lenders.
✔ If a borrower is refinancing, the equity within the property must not be below 20% of the property value.
✔ Over the last few years, the best 5 year fixed rates have around 3%.
✔ The terms for these mortgages generally range from 1 to10 years, and amortization are as long as 30 years depending on the type of mortgage and lender.
✔ Pre-payment penalties are usually IRD (Interest Rate Differential) for closed fixed mortgages and 3 month pre-payment penalty for variable closed mortgages.
✔ Rates are consistent with best available rates based on credit & income
"B" Mortgages (also known as Alternative-A / Alt-A mortgages)
✔ Offered by some Lending Institutions & thru Mortgage Broker Lenders.
✔ Minimum down payment is generally 10% from own resources.
✔ If refinancing, the equity within the property must not be below 20% of the property value.
✔ The terms for these mortgages generally range from 1 to10 years, and amortization are as long as 30 years depending on the type of mortgage.
✔ Pre-payment penalties are generally consistent with that of "A" Mortgages
✔ Reverse Mortgage Options are available with select lender for applicants of 55 and over
✔ Rates are a bit higher due to credit or income deficiency, and have a starting point of 1% higher than Traditional Mortgage rates.
"C" Mortgages (also known as Private Mortgages)
✔ Not offered by Traditional Lending Institutions. Select Brokerages specialize in this area.
✔ Minimum down payment/equity is generally 15% to 25% is required with most private lenders, however Amansad Financial has relationships with some lenders where 10% down payment options are available in select situations.
✔ The terms for these mortgages generally range from 3 months to 3 years. 12 months is the most common, and renewal is almost a guarantee with perfect payment history.
✔ Pre-payment penalties are generally 3 months pre-payment for a closed mortgage, and will be fully open on Open Mortgages. Open Mortgages are generally subject to higher rate and/or fees.
✔ Rates are a bit higher due to credit or income deficiency, A 1st mortgage rate generally will start at 4.50% for a property that holds 50% equity. As the equity decreases the rate increases with the risk. Second Mortgages generally start at 10%. Every situation however is a case-by-case basis.
Purchasing using a Private Lender
Purchasing and refinancing using a private lender is different than the traditional method. The first thing that a borrower must know, is that private lenders do not issue pre-approval letters like some traditional lenders, so much of the pre-qualification is based on the broker that you are working with to provide insight on what you may or may not qualify for. We provide pre-qualification emails.
Each Private Lender has their guidelines and comfort zones on how much they are willing to lend out based the Property Type, Property Location, Down Payment/ Existing Equity, and The Applicant(s) ability to repay from an income standpoint. Applicant(s) credit holds little weight.
Generally, the larger the down payment/equity, and the more information the borrower(s) can provide; the more options that Amansad Financial Services will have available to secure new financing.
What costs are associated with a Private Mortgage?
Fees will always apply when using a Private Lender. The Fees associated with obtaining a private mortgage will come from the Lender, and Brokerage Firm arranging the mortgage.
Fees for a 1st mortgage within the industry, some lenders charge as high 10% of loan request. That would mean that a $250,000 mortgage would total $25,000 combined for the Lender and Brokerage Firm. Lender Legal/Set up Fees would be an additional cost.
The relationships we have in place generally have the combined Lender and Brokerage Firms Fees ranging between 4-5% of the loan request, and it is rarely more. A $250,000 mortgage requested using our services would cost a borrower $10,000 combined between the Lender & Brokerage Firm. Lender Legal/Set up Fees would be an additional cost.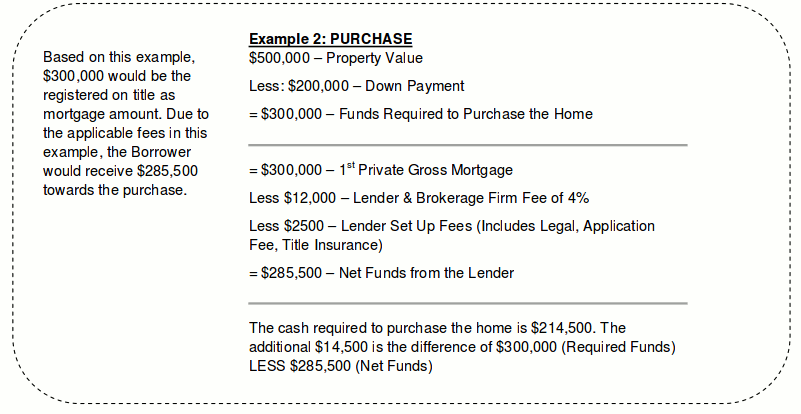 "An Educated Customer is a Happy Customer " As an Alberta Based Mortgage Broker with DLC Brokers For Life Inc.; Amansad Financial provides standard traditional bank financing, non-traditional, and private equity creative solutions to customers. Amansad Financial focuses on Alt-A lending by way of Private Equity Lending & Alternative Mortgage Solutions. Borrowers generally cannot obtain traditional financing. Many of our Customers generally have challenges that can be overlooked with our private mortgage lending partners. If there is adequate equity or down payment, security, or a combination of both… a solution will likely be found. Borrower credit is the least of our worries.