The Basics of Private Lending – for Lender and Borrower
A private mortgage can be a great way for a property owner to obtain quick equity from their property or a person who wants to escape the rent cycle and has a sizable down payment saved away to do so and has the means to make monthly payments. In both scenario, the individual may lack the credit and/or income history to qualify with a traditional lender. Private parties benefit from the interest income that they receive, while the borrower benefits by securing a mortgage otherwise not available. This article details what borrowers should know before entering into this sort of agreement.
A private lender can take any number of different forms. One of these is an institution that focuses on private lending as an investment strategy. Another is an individual investor looking for the high but still relatively stable return that private lending brings. Another possibility is a family member who has the money to invest. The benefit for the borrower with using a family member is an interest rate that may be lower than an institutional private lender. However, the risk is that if the borrower has a hard time meeting the terms, the relationship can be jeopardized. It is wise to secure the loan formally in this instance, so the lender has recourse if default happens.
Short term – a private loan is not designed to last for the entire traditional mortgage amortization period, which is often 15 to 25 or even 30 years. Instead, the loans are intended to last no more than one to two years, with three years being an exception. The borrower is not expected to pay off the whole loan over this time but instead to work to secure alternate financing, such as credit repair to make the application more acceptable to traditional lenders. Some borrowers are investors simply in need of an equity-based loan with red tape to secure interim financing until new financing is available, or a for a renovation flip.
No guarantee of renewal – There are key differences between a traditional lender and a private lender. With a traditional lender; so long as you keep your payments punctual, you are almost guaranteed renewal at the end of each term, although the interest rates may change. With a private loan, this is not a guarantee, but so long as you keep your payments on time and avoid NSF charges – and let the lender know that you will be applying for renewal – your likelihood of renewal is much greater.
Danger of market fluctuation – Private lenders do look at your credit, but they are more interested in whether the property holds enough value to pay off the loan through sale if you default, and if common sense illustrates an ability to make the payments. So, if the housing market plummets during your loan, you may require additional cash injection to secure a renewal.
Importance of credit repair – If poor credit is the reason for you working with a private lender, then we recommend that you work with a credit repair agency so that your credit improves sufficiently to gain qualification with a traditional lender.
Importance of income – Some clients need a private loan because they have not established enough of an income history, or because their income is not quite where it needs to be to satisfy debt-to-income ratios for traditional lenders. When this is the case, borrowers need to prepare themselves for the fact that approval may not come at the end of the private loan term, if they haven't elevated their income during the private loan term.
At the end of the term, if the private lender is not willing to renew the loan and the borrower cannot qualify with a traditional lender, the borrower has the choice of finding another private lender or listing the property for sale. If the borrower does not choose any of those options, the existing private lender has the right to pursue power of sale/foreclosure at the end of the term.
There are regulations in Canada about how private mortgages can work, according to the terms of the Mortgage Brokerages, Lenders and Administrators Act, S.O, 2006, and the regulations that come with it. This gives oversight to brokers who had offered and managed mortgages for third parties. In some provinces, Private lenders must either secure a license that renewable every two years, unless they receive an exemption… OR must work through a licensed brokerage firm. This is to ensure that borrowers are working with legitimate private sources, because there are many "scams" out there where criminals posing as private lenders take up front fees from unsuspecting borrowers only to disappear once payment is received. It is important for both the lender and the borrower to have independent legal review of the terms of the contract to ensure that both sides are protected.
How Private Lender Loans differ from traditional mortgages
Understanding the different mortgages available for any applicant is the foundation and starting point of your mortgage search. Having a firm understanding of these differences allows for a much more clear understanding and direction as you begin your mortgage loan search. Given that Amansad Financial Services provides primarily B and C Mortgages, a progressive approach through the A, B, and C's of Mortgage Lending to ensure we are getting the right mortgage for you. I am sure you will find this information helpful and will provide some clarity as we move forward through the process.
Purchasing & Refinancing using a Private Lender
Purchasing and refinancing using a private lender is different than the traditional method. The first thing that a borrower must know, is that private lenders do not issue pre-approval letters like some traditional lenders, so much of the pre-qualification is based on the broker that you are working with to provide insight on what you may or may not qualify for. We provide pre-qualification emails.
Each Private Lender has their guidelines and comfort zones on how much they are willing to lend out based the Property Type, Property Location, Down Payment/ Existing Equity, and The Applicant(s) ability to repay from an income standpoint. Applicant(s) credit holds little weight.
Generally, the larger the down payment/equity, and the more information the borrower(s) can provide; the more options that Amansad Financial Services will have available to secure new financing.
What costs are associated with a Private Mortgage?
Fees will always apply when using a Private Lender. The Fees associated with obtaining a private mortgage will come from the Lender, and Brokerage Firm arranging the mortgage.
Fees for a 1st mortgage within the industry, some lenders charge as high 10% of loan request. That would mean that a $250,000 mortgage would total $25,000 combined for the Lender and Brokerage
Firm. Lender Legal/Set up Fees would be an additional cost. The partnerships we have in place generally have the combined Lender and Brokerage Firms Fees ranging between 4-7% of the loan request, and it is rarely more. Smaller loan amounts below $100,000 carry a minimum fee costs which can drive up the fee percentage. A $250,000 mortgage requested using our services would cost a borrower $10,000 combined between the Lender & Brokerage Firm. Lender Legal/Set up Fees would be an additional cost.
---
---
What is the Monthly Payment when obtaining a Private Mortgage?
There are different ways to structure a private mortgage monthly payment, using interest reserves, half payments, etc. These methods are reserves for special cases after a complete review and assessment.
There are 2 most common ways to structure a payment. The first is Principal & Interest, Compounded Semi-annually which is commonly used on standard traditional mortgages. Another very common method and generally preferred by many individual private lenders is the Interest Only, Compounded Monthly calculation. It is a fast an easy calculation. (Mortgage Amount x Interest Rate / 12 months)
As an Alberta Based Mortgage Company with DLC Brokers For Life Inc.; Amansad Financial provides standard traditional bank financing, non-traditional, and private equity creative solutions to customers. Amansad Financial focuses on Alt-A lending by way of Private Equity Lending & Alternative Mortgage Solutions. Borrowers generally cannot obtain traditional financing. Many of our Customers generally have challenges that can be overlooked with our private mortgage lending partners. If there is adequate equity or down payment, security, or a combination of both… a solution will likely be found. Borrower credit is the least of our worries.
Most common aspects of a private mortgage:
Most Common Mortgage Terms
Net Mortgage
Gross Mortgage
Interest Rate
Down Payment
Equity
Maturity Date
Solicitor
Appraisal
APR
Amortization Period
Term
Vendor Take Back Mortgage
Title Insurance
Maturity Date
Payment Schedule
Prepayment Charge
A mortgage is a loan that uses the home you buy or currently own as security. This loan is registered as a legal document against the title of your property.
A Private mortgage lender will either be an individual or group of private investors who will provide the funds needed to purchase the home or refinance, as opposed to a bank or lending institution. The short term, interest only loan will range from a period of one to three years.
The Net mortgage is the amount of the loan, or the cash actually borrowed after deducting applicable mortgage fees.
The Gross mortgage or principal is the amount of the loan, or the cash actually borrowed after adding applicable mortgage fees.
Maturity Date – Last day of the term of the mortgage agreement, at which time you can pay off the mortgage or renew it.
The Interest Rate: Interest is a fee on borrowed capital. Interest rate is a "rent on money" to compensate the lender for foregoing other useful investments that could have been made with the loaned money. This does not include lender fees, broker fees, or other cost to transact.
The Down Payment – It is the buyer's cash payment toward the property; the difference between the purchase price and the mortgage loan. Down payment may come in different forms such as gifted,
borrowed (i.e. Loan), existing equity, sweat equity, rent credits. Each Lender will have their guidelines and restrictions pertaining to down payment. Private Lenders allow for more flexibility.
The Appraisal – Is the process of determining the value of property, usually for lending purposes.
This value may or may not be the same as the purchase price of the home. Some Lenders will have specified approved appraisers for their loans. (This is not be confused with a Realtor CMA or Comparative Market Analysis)
The Annual Percentage Rate (APR) is an expression of the "effective interest rate" that the borrower will pay on a loan, taking into account one-time fees and standardizing the way the rate is expressed.
It is also referred to as the EFFECTIVE COST. Transaction costs and fees are taken into account when calculating APR.
The Amortization Period is the actual number of years that it will take to repay the entire mortgage loan in full. This normally ranges from 25 -35 years but can be extended in certain circumstances. A longer amortization period will result in lower payments but it will take that much longer to pay off your mortgage which in turn means you will pay more interest.
Note: With respect to private mortgages, amortization periods rarely come into play because of the fact that term is generally 3 months to 36 months; with 12 months being the most common.
The Term is the length of time for which a mortgage agreement exists between you and your lender.
Typically, terms range between 3 months and 3 years. A longer term means you will keep the interest rate agreed upon for that longer length of time. Rates vary with the term and the difference in payments and interest costs can be calculated by your mortgage professional. Once your term is up you are able to reevaluate your financial situation and consider new term and amortization periods.
Vendor Take-Back Mortgage – When the seller provides some or all of the mortgage financing in order to sell the property.
The Maturity date marks the end of the term, when you can either repay the balance of the principal or renegotiate the mortgage at interest rates in effect at that time. If you should choose to repay the balance or renegotiate the mortgage before this date, penalties may be charged.
The Payment schedule is the frequency at which you will make your mortgage payments. These can occur monthly, semi-monthly (twice a month), biweekly (every other week), or weekly. Generally, more frequent payments can result in lower interest costs over the life of your mortgage
The Prepayment Charge is a fee charged by the lender when the borrower prepays all or part of a closed mortgage more quickly than is set out in the mortgage agreement. Every private lender is different, but the most common tends to be fully closed with a 3 month interest pre-payment.
Note: We have relationships with a wide variety of private lenders which will work with our borrowers to ensure we arrange the most suitable mortgage that best suits your private lending needs.
Your Private Mortgage Approval Awaits
FIND THE RIGHT MORTGAGE HERE! NO CREDIT CHECK.
The General Differences between A, B, & C Residential Mortgages:
✔ Most Common mortgages offered by Regular Lending Institutions & thru Mortgage Broker Lenders.
✔ If a borrower is purchasing, the minimum down payment is 5%, however $0 down (flex down) mortgages is available with select lenders.
✔ If a borrower is refinancing, the equity within the property must not be below 20% of the property value.
✔ Over the last few years, the best 5 year fixed rates have around 3%.
✔ The terms for these mortgages generally range from 1 to10 years, and amortization are as long as 30 years depending on the type of mortgage and lender.
✔ Pre-payment penalties are usually IRD (Interest Rate Differential) for closed fixed mortgages and 3 month pre-payment penalty for variable closed mortgages.
✔ Rates are consistent with best available rates based on credit & income
✔ Offered by some Lending Institutions & thru Mortgage Broker Lenders.
✔ Minimum down payment is generally 10% from own resources.
✔ If refinancing, the equity within the property must not be below 20% of the property value.
✔ The terms for these mortgages generally range from 1 to10 years, and amortization are as long as 30 years depending on the type of mortgage.
✔ Pre-payment penalties are generally consistent with that of "A" Mortgages
✔ Reverse Mortgage Options are available with select lender for applicants of 55 and over
✔ Rates are a bit higher due to credit or income deficiency, and are generally close to the Canadian Benchmark rate (currently 4.79%).
✔ Not offered by Traditional Lending Institutions. Select Brokerages specialize in this area.
✔ Minimum down payment/equity is generally 15% to 25% is required with most private lenders, however Amansad Financial has relationships with some lenders where 10% down payment options are available in select situations.
✔ The terms for these mortgages generally range from 3 months to 3 years. 12 months is the most common, and renewal is almost a guarantee with perfect payment history.
✔ Pre-payment penalties are generally 3 months pre-payment for a closed mortgage, and will be fully open on Open Mortgages. Open Mortgages are generally subject to higher rate and/or fees.
✔ Rates are a bit higher due to credit or income deficiency, and are generally start at 2-3 points above the Canadian Benchmark rate. A first mortgage rate generally will start at 7% for a property that holds 35% equity. As the equity decreases the rate increases with the risk. Second Mortgages generally start at 10%. Every situation however is a case-by-case basis.
Example 1: Purchase $500,000 – Property Value Less: $200,000 – Down Payment = $300,000 – Funds Required to Purchase the Home
---
= $300,000 – 1st Private Gross Mortgage Less $18,000 – Lender & Brokerage Firm Fee of 6% Less $3000 – Lender Set Up Fees (Includes Legal, Application Fee, Title Insurance) = $279,000 – Net Funds from the Lender
Note: The cash required to purchase the home is $221,000 The additional $18,000 is the difference of $300,000 (Required Funds) LESS $279,000(Net Funds)
Based on this example, $300,000 would be the registered on title as mortgage amount. Due to the applicable fees in this example, the Borrower would receive $279,000 towards the purchase. 
---
Example 2: Refinance $500,000 – Purchase Price and Property Value Less $250,000 – Existing Equity = $250,000 – Private Gross First Mortgage Less $15,000 – Lender & Brokerage Firm Fee of 6% Less $3000 – Lender Set Up Fees (Includes Legal, Application Fee, Title Insurance) = $232,000 – Net Funds from the Lender
Based on this example, $250,000 would be registered on title as the mortgage amount. Due to the applicable fees in this example, the Borrower would receive a net amount of $232,000 towards the refinance.
Below are 2 examples illustrating the 2 most common methods of calculating a private mortgage, and how the differ slightly over a short period of time.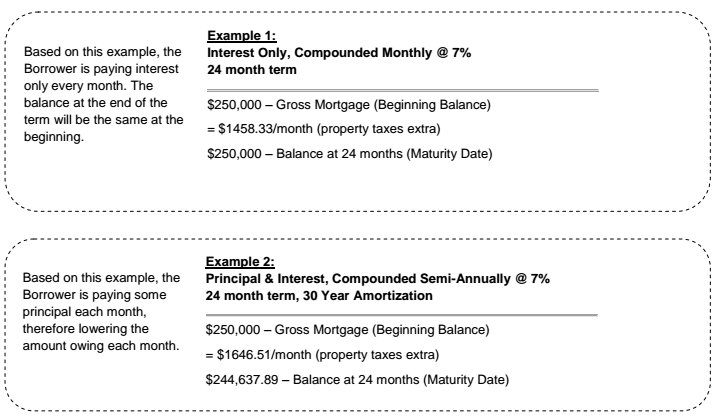 8 TOP REASONS TO USE AMANSAD FINANCIAL PRIVATE LENDING SERVICES
1. Fast & Efficient
Amansad Financial has a large DLGN (Direct Lender Group Network) that will fund mortgages throughout select provinces in Canada and will generally provide a response within 24 to 48 hours. Our process is generally 50% faster than most other competitors. From the initial assessment to closing with the lawyer, our transactions move extremely quickly.
2. Private Lending Expertise
Amansad Financial specializes in providing great insight and solutions for customers that do not qualify for traditional bank mortgages. A high majority of the customers we assist have either bad credit and/or simply require a fast mortgage.
3. Extended Lender Relationships
In addition to the DLGN, Amansad Financial also has established relationships with numerous MIC (Mortgage Investment Corporations) across the county that are able and willing to fund large amounts with fair terms.
4. No Upfront Costs To You
Amansad Financial does not charge an upfront fee to complete an initial review and assessment. We do not collect any monies direct from our customers. All applicable fees are deducted from the proceeds of the mortgage and completed by the lawyer.
Note: A Commercial Mortgage Application may be subject to a Letter of Engagement and a Retainer Fee after an initial review of the file.
5. Independent Legal Advice
Amansad Financial requires that all our customers get ILA (Independent Legal Advice) on all mortgages.
6. Transitionary Credit Improvement Services
In Cases where private lending is required primarily due to bad credit, we have strong relationships with 3 rd Party Credit Improvement Companies that will provide you the tools to improve your credit so that you can get back to traditional financing quicker. Private mortgages are not meant to be long term. A Private Mortgage is a means to get you from point A to point B.
7. Transitionary Mortgage Professionals
Amansad Financial Services has partnerships with excellent professionals within the brokerage firm; Brokers for Life Inc. They will be available to assist you to transition you from a private mortgage to a traditional or semi-traditional mortgage before your mortgage renewal.
8. Ongoing Communication
Even after your private mortgage is in place, Amansad Financial will stay connected with you and always be available to address any questions.