Table of Contents:
What exactly is a Construction Mortgage?
A construction mortgage enables you to draw down on the whole loan amount at predefined phases of house building. Allow us to clarify.
Construction loans are granted on a progress-advance basis. The total money you need to borrow to finish your building is handed to you in stages – sometimes known as "draws" – when you accomplish different degrees of completion.
If you already own the land on which you wish to construct, you may get a first advance called an equity take-out. A first advance is provided to help you with the acquisition of a vacant lot if you have not yet purchased the property.
How Does a Construction Mortgage Work?
Though a typical mortgage may help you acquire an existing home, constructing from the ground up—that is, beginning with raw land—requires a construction mortgage, often known as a construction loan.
Unexpected charges are prevalent in construction, raising the total price. Construction mortgages may be obtained as a strategy to better assure that the majority, if not all, of the construction expenditures, are paid on time, hence reducing delays in the home's completion.
Construction mortgages may be more difficult to get and carry higher interest rates than conventional house mortgages since a new home project is riskier than purchasing an existing property. Nonetheless, there are other lenders available, including both home loan specialists and standard banks.
Lenders may provide several choices to make construction mortgages more appealing to borrowers. This might include interest-only payments throughout the building period, as well as fixed interest rates when construction starts for construction-to-permanent loans.
Construction-to-Permanent Loans vs. Construction Loans on Their Own.
Stand-alone construction loans and construction-to-permanent loans are the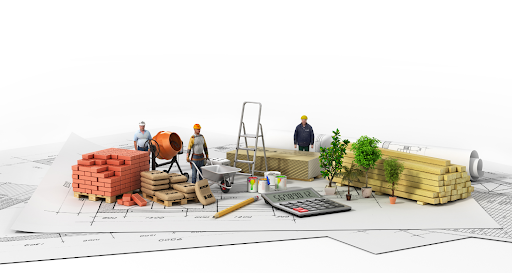 two most common forms of construction mortgages.
A construction-to-permanent loan is a loan that converts to a permanent mortgage after the building is finished. Technically, the financing option consists of two parts: a loan to pay building expenses and a mortgage on the completed property. The benefit of such arrangements is that you only need to apply once, and you will only have one loan closing.
If the borrower does not get a construction-to-permanent loan, they may employ a stand-alone construction loan, which normally has a maximum duration of one year. A construction mortgage may need a lower down payment. A stand-alone construction mortgage cannot have its interest rate locked in. The base interest rate may also be greater than that of a construction-to-permanent loan.
To pay for the construction mortgage debt, which is due after completion, the borrower may need to file for a second mortgage. During the building of the new house, the borrower might sell their previous home and live in a rental or another kind of accommodation. This would enable them to utilize the equity from the sale of their prior home to pay any expenditures incurred following the building of the new home, leaving just the construction mortgage outstanding.
Things to Consider Before Obtaining a Construction Loan
Maybe you have a "dream" home in your mind that isn't on the market, or perhaps you've already found the perfect plot of land—but it still needs a house. If this is the case, you will almost certainly require a construction loan to build your new home. However, there are a few things you should be aware of before applying for the loan, such as:
It's a Short-term problem.
As opposed to a traditional mortgage, a construction loan typically has a term of 15, 30, or even 40 years. The loan term is usually six months to a year, and the money is used to finance the construction of the house. If you're looking for a construction loan, look for a lender who will "lock in" your rate during the loan term, so you don't have to worry about your costs rising while your home is being built.
It must be completed all at once
Most mortgages require monthly payments to be made to pay off the loan gradually. However, the entire balance is typically due at the end of the loan term with construction loans once the house is completed. That means you must either have a cash reserve to pay off the loan when the time comes, or you must obtain some other type of financing or loan to cover the balance. This type of loan, known as "permanent" financing, necessitates a new application and the payment of closing costs and other fees. In some cases, you can get both a construction loan and permanent financing, eliminating the need for a second application and an additional set of costs.
The money does not come in a lump sum
Most people believe that once they receive the construction loan money, it is their responsibility to save it and pay the home builder. However, while it is your responsibility to disburse the funds to the appropriate contractors or subcontractors, you will not receive the funds all at once. Typically, the bank will pay you a set amount of money regularly based on the percentage of work completed on the house.