Table of Content:
Building a house is a beautiful opportunity to customize your new living environment. However, construction, like home ownership, can be an expensive endeavour. Fortunately, construction loans give the finances required to purchase land and pay for the supplies and labour involved in creating a new home.
However, various types of construction loans are available, and the application and approval process is more complicated than a standard mortgage. We'll help you understand construction loans by talking you through how they work, the many forms of financing available, and what you'll need to qualify.
What Exactly Is a Construction Loan?
A construction loan is a type of short-term finance that can cover building a house from beginning to end. Construction loans may be used to cover the costs of purchasing land, creating blueprints, obtaining permissions, and paying for labour and materials. You can also use a construction loan to access contingency reserves if your project becomes more expensive than expected or interest reserves if you don't want to make interest payments during development.
Construction Loans and How They Work
Future homeowners can use construction loans to borrow money to buy building materials and pay for labour. This money is frequently used to acquire the land on which you will be building; but, if you already own the ground, you may be able to use it as collateral for your financing. Construction loans are often given for 12 to 18 months because they are meant to fund the building phase. However, once construction is completed, some loans automatically convert to a permanent mortgage.
 Unlike regular mortgages, a completed house does not back construction loans. As a result, the application and approval processes for a construction loan are more complicated than those for a mortgage. Before approving funding, your lender will most likely want to evaluate your architectural drawings and assess your financial status. Your lender will also request an estimate of the building timeline and budget.
If you are approved for a construction loan, you will not receive all of the funds at once. Instead, the lender will pay your builder in a series of draws or installments as they finish different stages of building. In this approach, construction loans operate as a line of credit. The construction calendar plans attractions, and your lender will almost certainly send an inspector to verify the progress of work before each payment.
In most situations, you will only be required to return interest on funds as they are drawn rather than the total loan amount. Depending on the lender, you may also convert your construction loan into a mortgage after the construction is finished. If this is not viable, you can apply for a mortgage to pay off your construction loan, often known as an end loan.
Construction Loan Interest Rates
Like other types of loan interest rates, construction loan interest rates vary depending on the creditworthiness of the borrower, the loan size, and the loan length. Furthermore, construction loan interest rates are frequently variable, which means they change over time based on an index, such as the prime rate.
More specifically, rates are typically one percentage point higher than regular mortgage rates. Today, building loan rates range from 3.25 percent to 4 percent. This is because construction loans are not backed by a completed home and are hence riskier than typical mortgages.
Requirements for a Construction Loan
Before you can acquire the funding you need to start your construction project, you must first be approved for a loan. Because the loan will not be secured—or collateralized—by a residence, the process is often more stringent than for mortgages and other loans. Lenders will need to analyze and approve architectural blueprints, an anticipated construction timeframe, and a suggested budget in addition to applying usual borrower conditions.
You may require the following items to get approved for a construction loan:
The credit ranges from good to outstanding. Lenders demand borrowers to have a credit score of 680 or above to qualify for a construction loan to lower their risk. That is only the bare minimum; some lenders may want a score of 720 or higher. If you intend to build a house, try improving your credit score before applying for a construction loan.
Enough money to pay back the debt – You should have adequate income to handle payments on your present debts and the new construction loan, in addition to having an excellent credit history. Your lender will need financial documents or other documentation confirming your annual income to validate this.
They had a low debt-to-income ratio – The debt-to-income (DTI) ratio of a borrower compares all monthly debt payments to gross monthly income. The lower your DTI, the more cash you should have each month to make construction loan payments. When offering construction loans, lenders usually want a DTI ratio of no more than 45 percent to maximize the possibility that borrowers will make payments.
A down payment of at least 20% is required – When taking out a construction loan, borrowers are often asked to make a down payment of at least 20%. Many lenders, however, demand more—between 25% and 30% of the overall construction expenditures. The minimum varies per lender, but if you put down less than 20%, you may be required to pay private mortgage insurance.
Budget approval for the project and construction – Because of the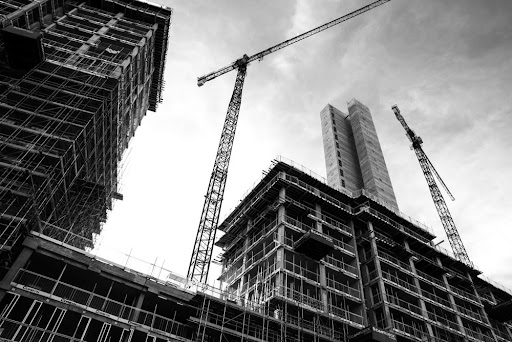 variables involved in building a house, lenders want to see as much information as possible regarding the future project. Provide documentation such as a deed (or purchase offer) for the land, comprehensive designs and specifications, a specific line item budget in the bank's preferred format, a payment (draw) schedule, and a signed construction contract with change order provisions to increase your chances of acceptance.
Approval from the builder or general contractor – Similarly, you must show the lender that your architect and builder are competent, licensed, and insured. Copies of the builder's insurance certificates, resume, and proof of financial stability may be required. You should also include a breakdown of each party's obligations, including the architect, general contractor, and everyone else participating in the project.
How to Select a Lender for a Construction Loan
There is a lot to consider when choosing a construction loan provider, and it's easy to become overwhelmed. As a result, it's easy to fall in love with the first lender you come across. It is preferable if you did not make this decision hastily. You can ensure that you select a lender who fulfills your requirements by asking the following questions:
What kinds of building loans do you provide?

What are the current interest rates? Are they constant or variable?

Do you have any extra fees or closing costs?

Can I utilize the equity in my home as a down payment?

How are construction draws paid—as a percentage of completion or on a defined schedule?

Is it possible for the builder to request the first draw to pay for materials?