Obtaining a mortgage in Canada can present a number of challenges to investors and homeowners. Thanks to recent changes in national law, potential borrowers have to go through what is known as a "stress test" to see that they can not only pay their potential mortgage under the prevailing interest rate without running afoul of established debt-to-income ratios, but that they could also do so should interest rates jump two percent. Because it is not possible to take out a loan that has a term as long as the typical mortgage amortization period (15-30 years), Borrowers will need run this test should they choose to leave their current traditional lender.
For some property owners, each renewal happens smoothly. However, for many others, a renewal is not an option due to unforeseen circumstances and going through financial difficulties. When a mortgage renewal is not on the table, you will need to refinance, sell your home, or face possible foreclosure action. This is where prepaid interest mortgages can come in handy for Canadian property owners. A typical mortgage amortization involves paying for interest that comes after the payment has been made; if you look at an amortization schedule for a mortgage, you see that each payment consists of a portion that goes to interest and a portion that goes to principal. As the amortization schedule goes on, the portion of the payment designated for principal increases while the interest designation decreases. Basically, you're paying off the interest first.
Example: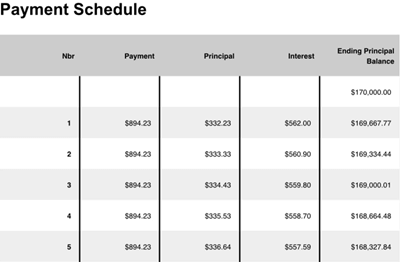 A prepaid interest mortgage involves having the interest up front from the mortgage proceeds on the closing date. Prepaid mortgages are primarily used in refinance situations. If your credit is somewhat shaky, you're between employers, your employment situation is not ideal having part or all of the interest paid up front can be the difference between approval and denial of your funding request.
At Amansad Financial, we understand that the process of financing a home when you don't meet the bank requirements can be stressful. Prepaid interest mortgages are one way for you to take some of the financial heat out of the situation, whether that involves paying more up front or making payments ahead of time when your financial situation improves during the mortgage, so that you end up owning your home free and clear sooner. If you have questions about your own situation, reach out so that we can determine how a prepaid mortgage may benefit you.
5 WAYS A PREPAID INTEREST PRIVATE MORTGAGE CAN BY USED
The 'experts" say that every household should have 6 months savings put aside and adequate insurance in the event of an emergency. Unfortunately, not every household is prepared for unexpected financial obstacles. A prepaid mortgage provides breathing room to handle affairs and keep life moving in the right direction. Below are 5 common situations where a prepaid mortgage can help a property owner.
1. Sudden Unemployment
A sudden work lay off or termination can catch even the most prepared by surprise. If you are not fortunate to have a sizable severance package in place or adequate savings; a prepaid private interest mortgage can provide the capital needed to bridge you until you're back on your feet.
2. Major Illness or Disability
When major illness hits home, short or long term disability should be there to withstand such events. Most employers provide some coverage, but the coverage provided is rarely enough. If you do not have sufficient insurance, a prepaid interest mortgage can provide you the funds needed to take care of your financial commitment while minimizing (perhaps eliminating) your mortgage payments for some time.
3. Unexpected Loss of a Loved One
Most households depend on 2 incomes, but when a major income earner suddenly passes and it is coupled with lack of adequate life insurance; financial troubles quickly follow. A prepaid interest mortgage can take care of immediate expenses while also reducing or eliminate the need for payments for a period of time. This type of mortgage can greatly reduce stress during a tough chapter in your life.
4. Lender Is Not Renewing & You Have Bad Credit
Traditional Banks in most cases will renew provided that you have made perfect payments, maintained property taxes, and your condo/homeowner fees (if applicable). Unfortunately, if you've had trouble in any of these areas and your credit has taken a beating, a renewal may not be offered. A prepaid interest private mortgage can assist you in managing your non-mortgage consumer debt while also keeping your payments manageable.
5. High Debt, Good Repayment, Buy You Have A Low Credit Score
Excessive debt can be crippling. Even if you've paid your debts on time regularly, your credit score will be low if you're at your credit limit on most accounts. A prepaid interest 2nd mortgage can tackle this debt with little or no payments while also increasing your credit score. Give it 6 months, and you can then position yourself to refinance your 1st mortgage and your prepaid 2nd mortgage into a single payment.
THE 3 KEYS TO DETERMINING IF YOU MAY QUALIFY FOR A PREPAID INTEREST MORTGAGE
i. EXCELLENT EQUITY IN YOUR HOME
ii. PROPERTY IS WELL KEPT
iii. CLEAR GAME PLAN TO REFINANCE OR PAYOUT AT THE END OF THE TERM